HOW TO READ A VESSEL
Art Gallery of Burlington
Burlington, Ontario
September 10, 2021 – January 9, 2022
Curators: Suzanne Carte, Ness Lee, Su-Ying Lee, & Christine Saly-Chapman
Artists: Marissa Y Alexander, Althea Balmes, Tamyka Bullen, Bojana Coklyat, Sameer Farooq, Shannon Finnegan, Naoko Furumaru, Shaya Ishaq, Joon Hee Kim, Myung-Sun Kim, Ivy Knight, Noe Martinez, Pamila Matharu, Primal Studio, Mark Menjivar, Lisa Myers, Haruko Okano, Jamie Ross, Victoria Sin, Nurielle Stern, Amina Z. Suhrwardy, Isola Tong, Camille Turner, & Adam Williams
Writers: Beatriz Paz Jiménez, Rania El Mugammar, & jes sachse
Educator: Tara Bursey
Designers: Osman Bari & Paul Cavanaugh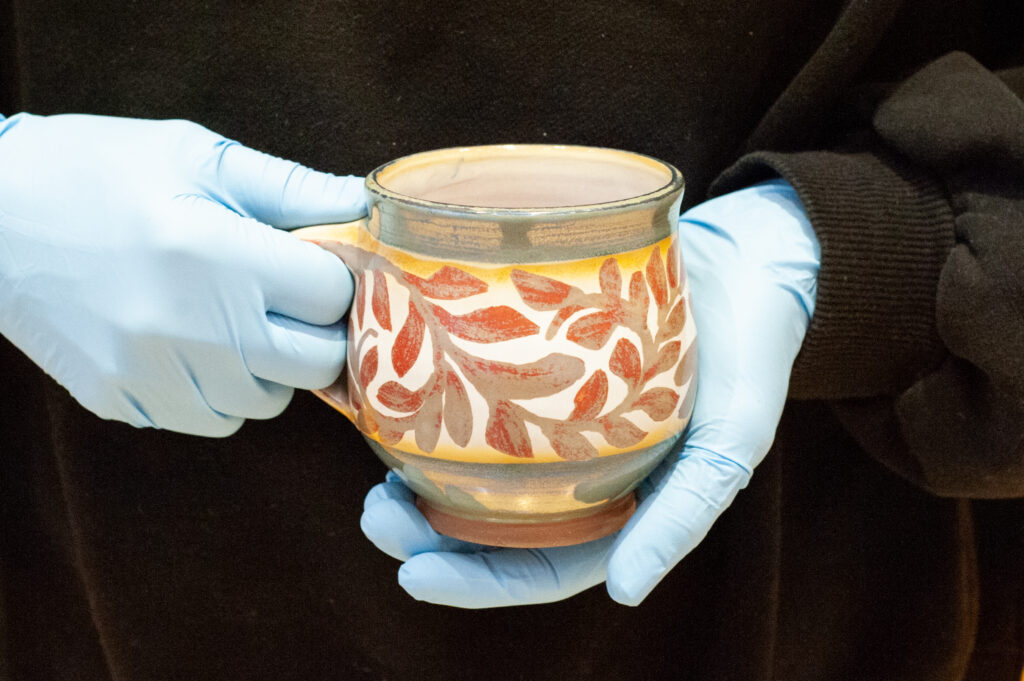 Tisane, Art Gallery of Burlington, 2021
Scott Barnim, Mug, 2012, Thrown stoneware, Persian lustre. 35th Anniversary Mug Project, Donated by the Artist, 2013.
Photo credit: Kat Williams
Over the last thirty years the Art Gallery of Burlington (AGB) has amassed the largest comprehensive collection of contemporary Canadian ceramics in the world. Totaling over 3000 works, the collection ranges from highly functional ware to sculptural installations.
How to Read a Vessel is an experimental exhibition functioning as a communal site of learning to openly discuss the challenges and excitement of holding, caring for, and exhibiting an object-based, craft-forward permanent collection, while continuing to develop a vision that incorporates critical social practice at its core.
An assembly of curators, artists, writers, and educators used Elizabeth Fisher's "Carrier Bag Theory of Evolution" as a point of departure. The text proposes that the first tool was a container, rather than a weapon, feminizing concepts of early society. By extension, we reference Ursula LeGuin's "Carrier Bag Theory of Fiction" which extends the container-approach to stories as a tool for expanding the types of narratives and outcomes that are made visible as opposed to the finality of a singular weapon wielding hero.
With these texts as a guiding force, the exhibition examines how a collection of vessels speaks to an unaccounted and unrecognized histories. The AGB's vessels will be brought out of the vaults and for public view to attempt to unpack the matriarchal history of craft production and our own institutional beginnings. It is a non-linear, queer exhibition following paths of the vessel as language, lineage, containment, nourishment, and archive. The objects become metaphors or mnemonic devices to discuss the colonial constructs of collections and their histories.
Tisane is a project within the exhibition, formulated from discussions about art and utility to collections and care. It is a lecture series on craft, social relations, and queering institutional practices. The series invites academics, writers, and cultural thinkers to drink a homegrown, herbal brew out of artists' mugs and envision an equitable future for craft. It is a multi-layered, ambitious, series which recognizes the healing power of craft as seen through the healing power of botanical medicines.
The program will be a hybrid of digital and in-person conversations. It is a learning opportunity to stretch the embedded institutional norms that are intrinsically linked to the heteropatriarchy of colonialism, capitalism, and neoliberalism. The teachings of invited artists, academics, and activists will speak to anti-racism, anti-productivity, anti-consumption, and anti-assimilist paradigms.
Herbalist-healers Amina Suhrwardy (Hamilton, ON), Jamie Ross (Montreal, QC), and Isola Tong (Pasay City, Philippines) have concocted tisane recipes for our learning journey to fortify and strengthen or relax and relieve the presenters and audiences. Our volunteer and resident landscapers built gardens for the plants recommended by the herbalists, in the protected outdoor space near the studios, and will harvest them for the tisane.
The tisane will be drunk from mugs purchased from local potters, Marissa Y Alexander, Joon Hee Kim, Ness Lee, Nurielle Stern, and Adam Williams. These new series of artists' mugs are to be used over the course of the How To Read a Vessel exhibition with the intention that they be accepted into the permanent collection under the provision that they remain available for future use. The utility of the pieces does not remove or question their status as artwork but re-enforces it with every physical engagement.